Who doesn't love a discount? Many small business owners have realized that offering a purchase discount to their customers frequently leads to earlier payments and improved cash flow. Learn more about cash discounts and why they might be a good idea for your business.
Overview: What is a cash discount?
One of the best ways to get your customers to pay their bills early is to offer them a cash discount. A cash discount is usually around 1 or 2% of the invoice total, although some businesses may offer up to a 5% discount.
But before you jump on board, be sure to review the following accounting terms so you know exactly what you're getting into.
• Credit terms: A credit term is an agreement you offer your customer in exchange for selling merchandise or services to them on credit. Credit terms specify the amount of time that your customer has to make a payment. Not all of your customers will have credit terms, but the ones that do should have the terms entered into their accounts when setting up your accounting software. If you're handling your accounting manually, you'll need to manage terms and discounts for each customer individually.
• Discount period: If you decide to offer a cash discount, the discount period is the time frame that the customer has to pay their invoice and take advantage of the discount. For example, if you give your customer terms of 2/10 net 30, they can take a 2% discount if they pay the invoice within 10 days of the invoice date. If they choose not to take advantage of the discount, they'll need to pay the entire amount of the invoice within 30 days. Any payment received after 30 days would be considered late.
• Discount percentage: As the business owner, it's entirely up to you how much of a discount to offer. Although not every customer will take advantage of your offer, always assume that your customers will take the discount when deciding just how much you can afford.
• Invoice due date: While many customers appreciate the offer of a small discount, the most important date on your invoice is the invoice due date, which is when payment is due.
Discounts can be especially helpful for newer businesses. If you're still in the process of establishing relationships with customers, offering a discount provides your customers with a strong incentive to pay their invoices early while also helping to increase your cash flow if they do, making both parties happy.

An example of the cash discount
Nancy recently opened a cleaning service. The majority of her clients pay her in advance of her services, but she has extended credit to a few of her regular customers.
To provide an incentive for her customers to pay her earlier, Nancy starts to offer them a 5% discount if they pay within 10 days of the invoice date. Below is a copy of the invoice Nancy sent to one customer.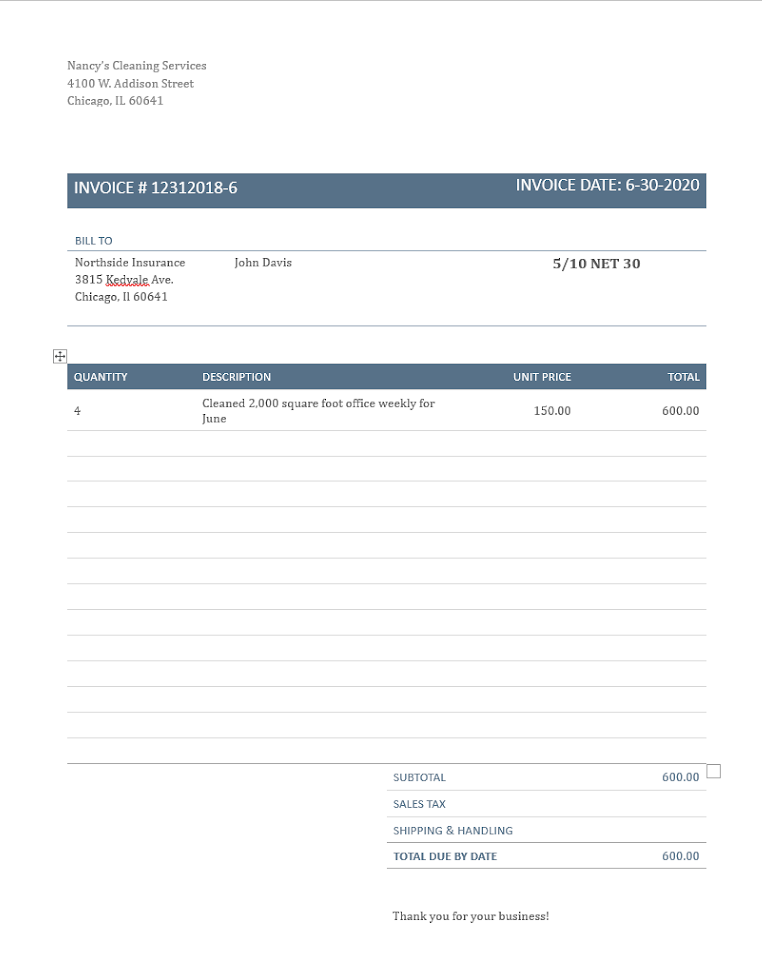 The cash discount formula is based on the terms included on the customer's invoice. In this example, if Northside Insurance pays its $600 bill by July 10, it can take a 5% discount from the invoice total, and pay only $570. If it chooses not to pay early, the entire $600 is due by July 30.
What is the benefit for sellers to offer cash discounts?
While not all businesses are in a position to offer a cash discount to their customers, if you're able, there are a lot of benefits.
1. Increased cash flow
Instead of waiting 30 days for payment, offering a discount increases the odds of getting paid in 10 days or less. Early payment means better cash flow for your business, and the discount rewards your customers who pay early.
2. Eliminate the need for follow-up
If you currently sell to customers on credit, you know that part of the process involves following up on past due accounts, mailing additional invoices, making phone calls, and sometimes even getting a collection agency involved.
While offering a discount doesn't eliminate the possibility of your accounting clerk having to do any of those things, it does reduce the occurrence.
3. Encourages customers to pay their bills
Everyone likes a discount, even if it's just a few dollars. Giving your customers a cash discount will likely motivate them to pay early, or at the very least, on time.
4. Builds customer loyalty
If you're just beginning to build your business clientele, you know how hard it is to attract and keep good customers. Providing a few perks can help you grow your customer base and keep them coming back to buy the products or services you offer.
Cash discount frequently asked questions
How do I record a cash discount payment?
You'll need to do two journal entries to record any invoice: one when the customer is initially billed, and one when payment is received. For the entries below, we'll assume that Erin offered her customer a 2% discount if they paid in 10 days. The initial journal entry made by her bookkeeper would be:
| | | |
| --- | --- | --- |
| 6/15/2020 | Accounts receivable | $500 |
| 6/15/2020 | Sales revenue | $500 |
If Erin's customer takes the cash discount, processing the payment is a little different, with the journal entry looking like this:
| | | |
| --- | --- | --- |
| 6/24/2020 | Cash | $490 |
| 6/24/2020 | Cash Discount | $ 10 |
| 6/24/2020 | Accounts receivable | $500 |
However, if Erin's customer did not take advantage of the discount, the entry would be:
| | | |
| --- | --- | --- |
| 7/10/2020 | Cash | $500.00 |
| 7/10/2020 | Accounts receivable | $500 |
Should I offer a cash discount to my customers?
There's no right or wrong answer to that question. It can depend on a lot of things, such as your current financial situation, how many customers you sell to on credit, and if the discount would financially impact your business. However, if you're just getting started in a crowded field, offering a discount can help you stand out from the competition.
Is a cash discount the same thing as an early payment discount?
Yes, both terms mean the same thing.
Are cash discounts in your future?
The idea is worth considering. Offering customers a cash discount, even a minimal one, can be advantageous for your business and your customers. If you don't offer credit terms to your customers, or your customers tend to pay on time, offering a cash discount won't help your business much.
But if you're looking to build a strong customer base, provide a little extra incentive for your customers to pay you early, and even stand out from the competition, it might be worth it to begin offering cash discounts to customers.
The post Should You Use Cash Discounts in Your Small Business? appeared first on The blueprint and is written by Mary Girsch-Bock
Original source: The blueprint