Not everyone is ready to buy your product or service right away. But that doesn't mean they aren't valuable to your business and that you shouldn't market to them.
Your marketing strategy needs to focus on all customer lifecycle stages, although you don't need to allocate your time or budget evenly across each one. Instead, you need to create a lifecycle marketing strategy that provides a high return on investment and converts leads into customers.
Overview: What is lifecycle marketing?
Customer lifecycle marketing uses different tactics, channels, and content to market to people in the different stages of the customer lifecycle.
For example, you could use blog posts explaining your product to customers further down the funnel and closer to making a purchase. But if your customer has never heard of your brand, you might show them a competitor on social media or share some industry insight.
4 phases of the lifecycle marketing cycle
Different companies use different names for the phases of the lifecycle marketing cycle, but they all mean the same thing. What you call the phase isn't important, but how you market to customers in that phase is.
1. Discovery
I'm on the lookout for a new pair of jeans. I Googled best pairs of jeans as a starting point in my decision process. I looked at articles that listed different brands and what makes them great, or not so good.
Some I'd already heard of. Levi's, Diesel, and Mother Denim (only because the internet went wild after Meghan Markle wore a pair) are all familiar brands. But others I'd never heard of.
I clicked on these companies' websites and had a look around. I didn't buy anything — I still have the tabs open as I write this — because I needed to do more research.
This is the discovery phase, also called awareness. A customer is looking for a product and is researching different options. They're unlikely to buy something from your brand the first time they come across your name and website. They will do more research before coming back, which is why your marketing team needs to have material ready to serve on their first and second visits.
Paid advertising on Google and social media is also a useful tool, as you can get your products in front of the customer right away. When I Googled best jeans for women 2021, the results page showed Google Shopping ads at the top.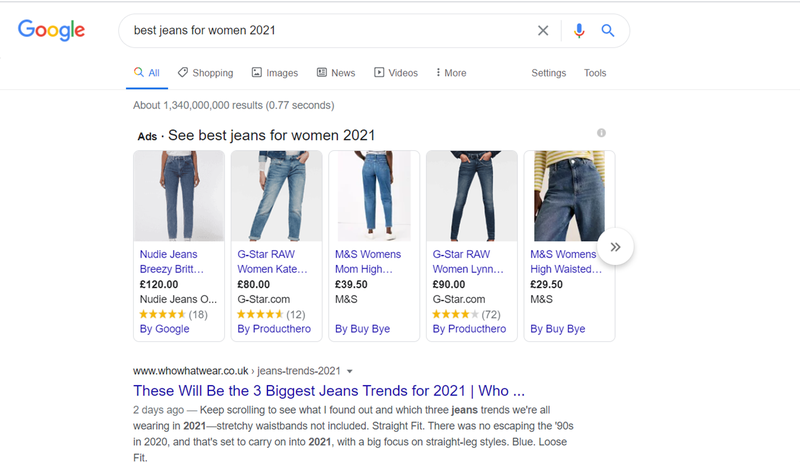 2. Consideration
Once the buyer has done their initial research, they'll consider the different products on offer. This is the consideration stage, also known as the evaluation phase.
Customers will look at different attributes, such as price, delivery, features, and reviews. When researching my new pair of jeans, I read articles about company ethos and mission. I wanted to find a company that takes a sustainable approach, so I checked out their social media posts, researched the materials they use in their products, and read peer reviews.
I discarded the brands that didn't have much interesting content about their jeans. Levi's has a huge amount of engaging content about its commitment to sustainability, including a video that explains how the latest collection is the most sustainable yet.
3. Decision
The customer has decided to buy your product, but they often need a push to get over the line. This could be information about delivery and returns policies. Or it could be an automated email series focusing on cart abandonment.
If customers have been checking out your products, and they've put them in their basket, you know they're serious about making a purchase.
As a first step, send them an email reminding them they have items in their basket (they might have closed the tab by accident) with a link taking them directly to their basket. If that doesn't work, send them an incentive to encourage them to complete the purchase. This could be free delivery or a discount code.
This email from beauty brand Pixi not only provides a link that takes you directly back to the items in your basket, but it also offers a 10% discount code to incentivize the purchase.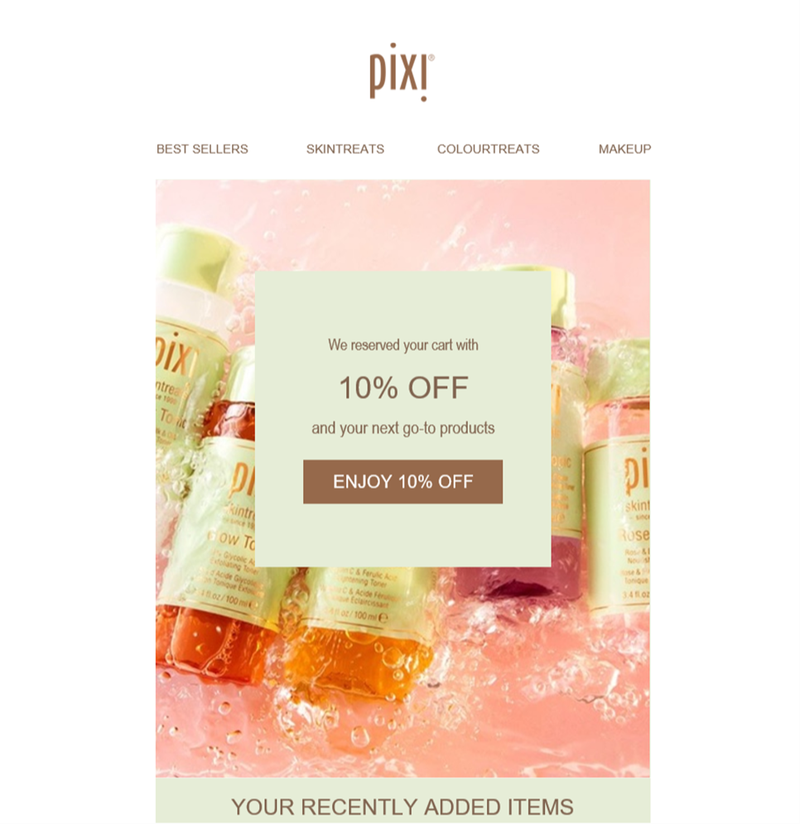 4. Post purchase
This is the stage many companies forget about. They get a customer across the finish line, but then they forget about all the ways they can continue to engage with them while they wait for delivery or even after the delivery is complete.
Send them a survey rating the purchase experience, and ask if there is anything you can do differently. Ask them if they have questions about the product and offer to help. Upsell them related products. You don't have to do this manually for each customer; you can set up an automated email series using email marketing software.
Best practices for lifecycle marketing
To engage customers across any stage of the lifecycle, you need to be strategic in your approach.
Personalize the message
Consumers want relevant, targeted content. If you serve every customer the same message, they won't be happy. This strategy will look different across different channels.
With email marketing, you can create segments so you only send out relevant content. Using Zoho Campaigns' dynamic content functionality, you can display different information in the email depending on conditions such as the recipient being on a certain list or segment, or based on custom contact fields, such as shoe size.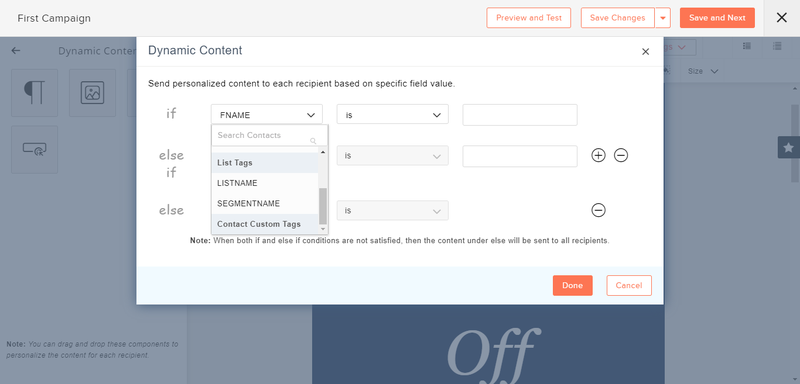 Measure success
You need to know if your content is fulfilling its purpose and moving customers down the marketing funnel and closer to a purchase, and if it's converting one-time buyers into loyal customers. You can do this by measuring the success of your marketing campaigns on an individual level and tracking which customer lifecycle stage finds your content useful.
Marketing automation software Freshmarketer lets you track which customer segments have engaged the most with your content so you can see where it's succeeded.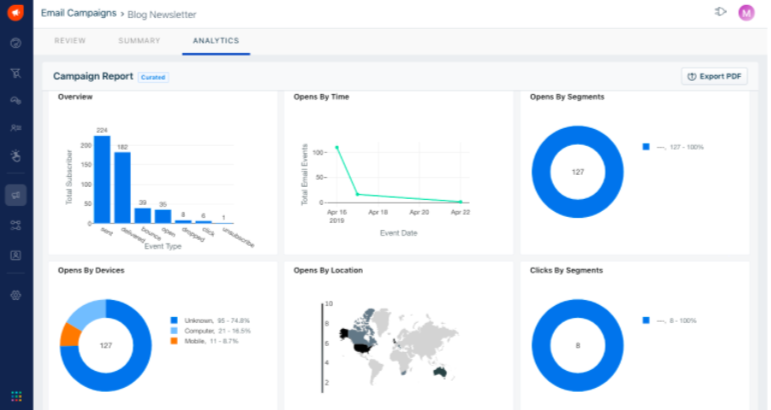 By keeping an eye on these metrics, you can better understand what kind of content customers need during each lifecycle stage and what will more likely lead them to purchase.
Customize stages for your business
Customer lifecycle management, strategy, and processes will vary by industry, product, and whether you're selling to consumers (B2C) or other businesses (B2B). If a customer is buying a toothbrush, they might move from the awareness stage directly to the purchase stage. But if they're buying a new car, the sales cycle will last much longer.
Using data from your marketing automation software, you can do a customer lifecycle analysis to work out what a typical buying journey looks like. Then adapt the phases of your lifecycle marketing and the content you create for each stage to suit that journey.
The post How to Market to Customers at Every Lifecycle Stage appeared first on The blueprint and is written by Karen McCandless
Original source: The blueprint