Retargeting is a key component of any successful digital advertising campaign. Including it in your business advertising plan allows you to take customer engagement to the next level.
Even though retargeting (also known as Google remarketing) is commonly used by many marketing teams, plenty of business owners forgo this technique — because they don't know how it works, or they doubt its effectiveness.
But to have an edge against your competitors, it's important to invest time, energy, and resources into retargeting campaigns. Let's take a closer look at what it's all about, what you'll gain, and how to set up a successful retargeting campaign.
Overview: What is ad retargeting?
Retargeting is a highly-focused, direct, and effective approach to online advertising. Basically, it allows your brand, products, or services to magically appear in front of those who've already expressed some interest in your business.
Just as defining your target market helps direct your ads toward people who're most likely to buy your products, the remarketing angle allows you to "chase after" those who've already explored your website.
For most businesses, only a small fraction of website traffic results in actual purchases. With retargeting ads, you'll help bridge that gap between interest and investment — which means more revenue on your end. Who wouldn't love that?
How ad retargeting works
There are two main forms of retargeting:
• Pixel-based: Targets ads on other sites after anonymous visitors stopped by your website. This is the most popular approach, helping pull in new customers for your business.
• List-based: Works on re-engaging customers and contacts already in your database. Although not as effective as the above approach, it's still an important component of your marketing strategy. In the end, it helps keep your customers coming back for more.
First, let's look at a pixel-based example: A random person visits your website — either through an organic search, lured in by a strategic social media campaign, or intrigued after receiving an engaging newsletter. Whatever the case, there they are, leisurely perusing your website.
But what happens if they leave your website before purchasing anything? All that effort, time, and money to get them there in the first place is lost. Hold on, save those tears — there's hope.
With a solid retargeting campaign in place, the visitor's cookies will be collected with no sensitive information — meaning their name, address, or other identifying facts will remain hidden. In turn, a miniscule piece of JavaScript — called a pixel — is attached to their browser.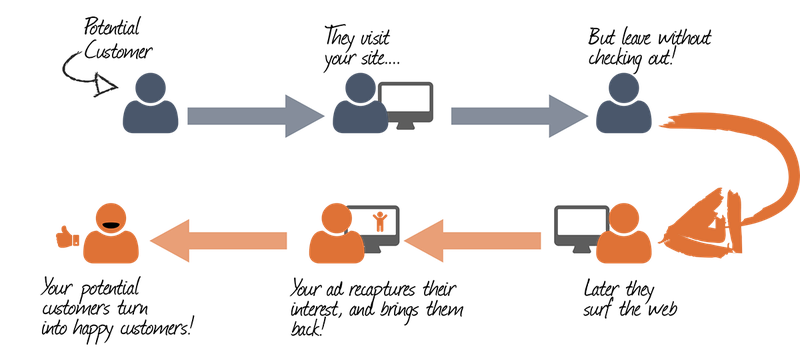 Next, your visitor heads to another website, maybe in search of a similar product, or on a new quest. Either way, your retargeted ad will appear somewhere on the sideline, or, with Facebook retargeting, right in their feed. The goal is to remind them that you still exist.
The process is flawless, happening within a matter of seconds. And chances are, this person will see the ad, think about what they recently saw on your website, and the connection will be made — that your product is amazing and they need to buy it. At least, that's the goal.
The other form of retargeting is list-based. Here's an example: You upload a list of collected emails to a social platform, such as Facebook, allowing the platform to target ads specifically to those users.
It takes engagement marketing to the next level — identifying your current users, connecting with them in a personal way, and then displaying catered ads to pique or re-engage their interest. Read more about how to maximize your efforts with email retargeting.
What to consider before starting an ad retargeting campaign
It's important to understand the complexities of retargeting before getting started. Here are a few common mistakes that are important to avoid.
Don't stalk potential customers
Nothing's worse than having the same ad pop up wherever you go. You may have decided against that brand, or looked at your budget and decided you don't have money for new shoes. And yet, there's that ad again — following you to every corner of the web.
When designing your retargeting campaign, set a frequency cap. This'll ultimately limit the number of ads any individual will see.
This cap number is up to you. If you're using a retargeting service, they'll have a recommendation. The bottom line is to avoid overwhelming, or stalking, your potential customers.
Use new campaigns for converted users
Let's say you just bought a shirt from a clothing website. Less than a minute later, you're on Facebook and an ad pops up for the exact shirt you just bought. Talk about annoying.
The best way to avoid this dilemma is to create fresh and unique ads for your converted users. This can involve showing different products on your site, a link to a sister site, or offering a coupon code for their next purchase.
The main point is to avoid wasting your advertising dollars by presenting things your customers have already purchased.
Stick with one provider
Countless retargeting services are out there to help, as well as social media management tools that help streamline the process. However, you're bound to run into problems if you use multiple providers simultaneously.
Each provider will work hard to bid for spots on websites, often overlapping their efforts with other providers. This will drive up your advertising costs, and it'll decrease your overall exposure.
If retargeting is new to you, it's fine to check out different providers. But stick to one provider per ad campaign to enhance their efforts and to adequately assess their effectiveness.
How to set up ad retargeting in your small business
Perhaps you already have a concrete social media strategy in place, along with a diverse marketing plan. But now you're ready to step it up big time, which means diving into the exciting world of remarketing.
This is a smart move. What better way to gain new customers than follow them across the web? (in a gentle, non-aggressive way, of course).
Here are the steps we'll discuss:
• Define your campaign's goals
• Decide where to retarget
• Use Google AdWords
• Focus on Facebook
• Invest in software and services
• Evaluate and reassess
1. Define your campaign's goals
It's important to brainstorm your ad's main objectives before designing your campaign, otherwise you risk heading in the wrong direction.
Here are a few tips to help you focus your campaign:
• Reaching people who took minimal action on your site: This campaign retargets those who actually visited your site but didn't purchase anything. However, avoid chasing those who only spent seconds on your site. You can specify the minimal time in your campaign, say, only targeting those who spent at least five minutes on your site.
• Approaching those with abandoned carts: Perhaps someone visited your site and got as far as placing a few items in their cart but then disappeared. Seeing a "Hey, did you forget us?" ad pop up can be effective, especially if they meant to complete the purchase but got distracted.
• Sharing interesting pages to everyone: Here's your chance to promote pages you think are especially important. Perhaps someone visited your main page but didn't visit the clearance page — which might be right up their alley.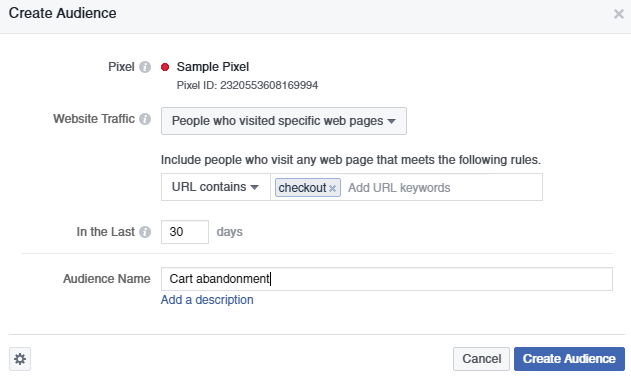 Once you have your goals in place, you can approach your retargeting service or software with these missions. Set new goals for every campaign because, well, no two campaigns are ever the same.
2. Decide where to retarget
Practically everyone is online these days, even your grandma and grandpa. That's why advertising on social media is so popular — no matter the platform, you're bound to engage and entice someone out there.
However, there are many aspects to consider when thinking about social media engagement. For starters, who is your target audience and where do they hang out? Perhaps you want to attract business professionals, in which case you should try retargeting on LinkedIn. Or, if you're trying to connect with a younger audience, consider Snapchat or Instagram.
Using a comprehensive social media software, such as Sprout Social, can help lessen your mental load when trying to understand current social media trends. You have enough on your plate — it's okay to hand over this task to specialized software (more about this in section 5).
You can also target other websites, expanding beyond the social media domain. We'll discuss Google AdWords next.
3. Use Google AdWords
This is an excellent place to start with your retargeting mission, allowing ads to appear while your potential customers browse Google or any of their partner websites.
Remember, the goal is to increase your exposure, reminding your audience that your product is superior in every way.
You're all set. Within days, this tag will start gathering the cookies of website visitors. You'll be able to view the stats in the All Visitors list in your Google AdWords account.
4. Focus on Facebook
You can't go wrong investing in Facebook retargeting ads. Advertising on Facebook is super easy, offering a wide range of demographics at your fingertips. Plus, they have informative analytics tools.
Remember to check out the Facebook analytics tools to understand the full effectiveness of your campaign.
5. Invest in software and services
Maybe you've already tried Google AdWords and Facebook with little success, or are feeling too overwhelmed to start. That's okay — this is tough stuff.
There are plenty of services that can offer a helping hand. You gain years of expertise, focused knowledge, and insightful tips — stuff most business owners don't have time to research and acquire.
Even if you use a service or software to start out, you don't have to stick with them forever. Learn their retargeting techniques, make notes, and tackle it on your own — when you're more prepared.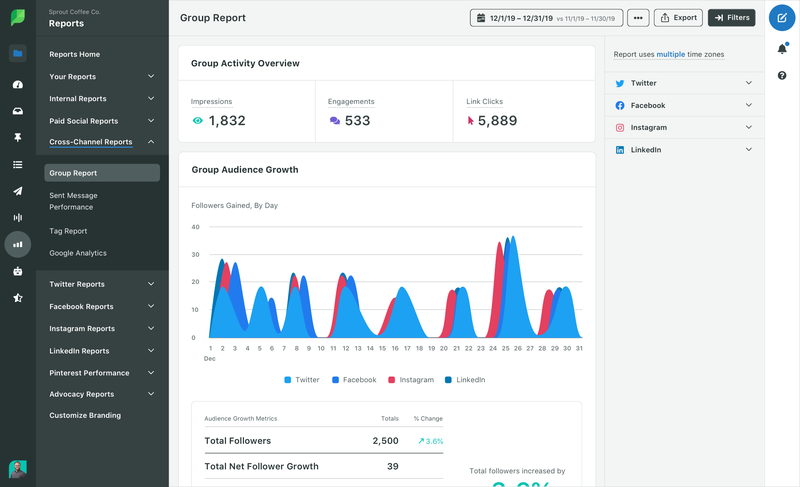 Here are some of our favorites:
• Sprout Social: Comprehensive social media marketing software that's ready to tackle all your retargeting needs.
• ReTargeter: An online service dedicated to optimizing your retargeting goals.
• Zoho Campaigns: A fantastic option for taking your email marketing to the next level.
Just remember, stick to one software or service per campaign. Otherwise, you risk competing against yourself and incurring additional costs — and headaches.
6. Evaluate and reassess
No campaign is complete without detailed analysis. Every platform or software will provide you with a detailed report of the actions taken, the level of engagement, and how successful the overall campaign was.
If your campaigns fall short, brush up on digital marketing tips. Remember, regular advertising tips apply here. What works for a typical social media campaign can be applied to retargeting campaigns, such as making sure your ad is inviting, informative, and uses a superior image.
Above all else: don't give up. It can take a while to find the perfect balance in retargeting, such as presenting engaging ads without being too aggressive. Just keep analyzing the data. And once you hit a gold mine, break down the exact steps you took so you can recreate that campaign.
Retarget with goals in mind
Understanding the full depths of retargeting can be quite the feat. Instead, focus on one goal at a time, such as contacting those who've abandoned their carts. This way you can direct your entire retargeting ad with this goal in mind: to get people to complete their purchase.
From there, you can expand into new campaigns, such as approaching those who briefly visited your website without taking any actions.
If this whole ordeal makes your head spin, that's okay. There are dedicated professionals out there who are ready to help, either in the form of software or services. Use them.
The bottom line is to get those potential customers coming back and investing in your business. How you get there is up to you.
The post How to Effectively Use Retargeting Ads to Grow Your Business appeared first on The blueprint and is written by Jill A. Chafin
Original source: The blueprint