Mark Twain is credited with saying, "Those who don't read have no advantage over those who can't read." This maxim is equally applicable to how you treat your customer feedback: If you don't review the feedback you receive and act upon it, how does that feedback benefit you?
The idea of closed-loop customer response stems from computer science. An open-loop system in a computer does not feed back into the process. You might use this kind of process loop for a one-way process, like turning on a switch. But customer service skills are not a one-way process.
A closed loop is a feedback control loop — whatever the system outputs gets fed back in. In terms of customer satisfaction, integrating customer feedback is the crux of the closed-loop process. It makes certain that you solicit customer responses and use them as some of your most valuable input when refining your products and processes.
Overview: What is a closed-loop process for customer feedback?
Closed-loop feedback identifies specific points along the customer journey when it might be mutually beneficial to solicit feedback and then — this is the essential part — act upon that feedback in a prescribed manner.
Advantages of using the closed-loop process
Sure, we'd all prefer to pretend that customer complaints didn't exist, but there are some real benefits to bravely facing the music. When you go out of your way to find even tiny dissatisfactions from your buyers, you can expect to reap some valuable rewards.
Customer loyalty
When your customers know that you care about them, they're more likely to bring return business (theirs or someone else's) your way. The best way to demonstrate that care is by addressing any concerns they raise as quickly and completely as possible.
Enhanced brand reputation
Once upon a time, a single dissatisfied customer could share their experience with a handful of friends and family members — a situation you want to avoid but perhaps not a catastrophe. Today's unhappy consumer has access to the entire world via social media. Use this to your advantage by responding to complaints on that same world stage and you'll satisfy that customer and woo countless more.
Better products
If a buyer has found a flaw in your product, that's bad news. But it can be good news, too, if you handle it correctly. After all, you can't fix a problem you don't know you have. Don't quash customer complaints, cultivate them, and you'll have actionable information on how to improve your products as well as some convincing testimonials once issues are resolved.
Better processes
Your customers might be happy with your product but unhappy with some other aspect of their buying experience. Maybe your shop assistant was rude, your customer service line was unnavigable, or your doorstep was slippery — all these can be improved if you collect those concerns and address them. Remember that some feedback is positive, and you'll want to capture examples of good customer service when you can.
More profit
Happy customers mean return visits, great reviews, and more word-of-mouth business, which all translates to your bottom line. Rather than spinning your wheels trying to make incremental improvements in areas of your product line that seem to be deficient, let your customers dictate where you spend your saw-sharpening time and money. It's just better business to fix the things that your customers identify as broken.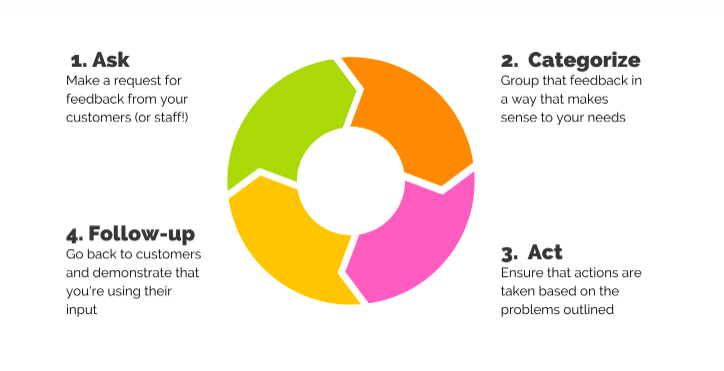 How to implement a closed-loop process into your customer feedback
If you're already collecting customer feedback via surveys, follow-up calls, or service visits, you're well on your way to implementing a closed-loop process. Just be sure to value the information this follow-up provides and put it to work for you. Here's how.
1. Cultivate customer feedback
Don't wait until the sale is closed to ask customers for their input. Offer a three-question survey for your website visitors (with a coupon attached, of course) to discover whether they were able to find what they were looking for. Have your employees ask shoppers if they have any questions. And, yes, follow up on all completed sales to ensure that your customers are completely satisfied.
Be sure that your customers feel that they are being heard. Empathy in customer service goes a long way. And document the responses you get. There are some great options in customer service software that will help you collect this data in a way that lets you dig deeper into your customers' concerns.
2. Organize the responses
Don't simply store the info you collect. The closed-loop process starts with soliciting feedback, but this is simply the raw material.
Sort the responses you receive by area — comments about products go to your design team, complaints about customer service go to your customer satisfaction team, confusion about product offerings might go to your marketing group. Some comments will affect a number of your teams, so copy in anyone who might be affected or have some insight into a solution. This is one area where more is better.
3. Make things right with your customer
If your salon customer develops a rash right after receiving a facial, there might be an issue with a product, a technician, or how the facial was done. It might take weeks to drill down into the core issue and put practices in place to avoid this in the future. But your customer cannot wait that long for a resolution. As long as she is red-faced, you should be too.
Immediately try to rectify any customer complaints. Offer discounts, rebates, coupons for future services, complementary services, or, when called for, offer to reimburse any medical (or cleaning or repair) services needed. Close the loop with that customer right away, and then close the loop on the deficiency in your operations as soon as you are able.
4. Improve your process
As you collect customer feedback, you'll find a lot of one-offs. Your salon customer might simply have had a rare allergy. A product may have been damaged in transit. A once-in-a-century storm may have delayed service in one region. You still have to make things right with those customers.
However, for the closed-loop process, you'll want to focus on patterns that emerge. Are there deficiencies in your customer service standards or consistent complaints about one aspect of your product? These responses are incredibly valuable. Get your team to focus on the things your customers care about and you'll find your investment goes a lot further.
Also, be sure to check back in with your customers to ensure that you've resolved the problem to their satisfaction. The loop isn't closed until the customer says it is.
3 best practices when using the closed-loop process
Sometimes embarking on a closed-loop approach to customer service can feel like turning on a firehose pointing straight at your face. You may feel as though you've gone from not knowing how to please your customers to never being able to please them. Here are some tips to help you stay positive and focused.
1. Prioritize product feedback
If you're zealous in cultivating customer responses, you'll likely have more info than you can manage all at once. Try to isolate concerns that focus on your product. If your product is fantastic, customers are more willing to put up with some hiccups in other areas of your business.
2. Respond to every customer
Not every customer needs a tailored, individual response, but every customer concern needs to be heard and answered. If you're aware of a slowdown in delivery times, it's OK to notify all customers with orders on hold about the delay, how you are dealing with it, and when to expect a resolution.
If your social media feeds are bombarded with complaints about a single issue, you can let everyone know you've heard them and are working on improving the issue with a single message.
Streamline responses where you can, but try not to leave any customer complaints hanging. And remember, it's all right if your product or service doesn't solve all your customers' needs — you can't please all of the people all of the time. Do what you can to make your customers feel heard, understood, and fairly treated, even if that means recommending a competitor or offering a full refund with no further hope of business.
3. Let the Pareto principle guide you
The Pareto principle will tell you that 20% of your customers represent 80% of your business, so if the amount of feedback you're getting seems overwhelming, remember that resolving 20% of those complaints will solve 80% of your customers' issues. Once you've organized your customer feedback, you'll start to see where your efforts will have the greatest impact.
Loop yourself into your customers' concerns
Where customer satisfaction is concerned, the closed-loop process can yield your most valuable insights. Put your customers first and you'll find they return the favor when they're in the market again.
The post Closing the Loop on Customer Satisfaction appeared first on The blueprint and is written by Kathleen Carroll
Original source: The blueprint