Hearing or reading the words "omnichannel marketing" makes the concept sound more complicated than it really is. It's also often confused with "multichannel marketing" — and for good reason.
The focus of omnichannel marketing is on the customer, whereas with multichannel marketing, the focus is on the channels through which you're marketing.
Additionally, in the marketing vs. advertising conversation, marketing is the process of making your product desirable, while advertising is the act of getting your product out there. When implementing an omnichannel marketing strategy, think customer first and always.
Overview: What is omnichannel marketing?
In essence, omnichannel marketing is using multiple marketing channels to create one seamless shopping experience for your customer. Whether they're viewing your store on their laptop, on their phone, or on another mobile device, or visiting a physical location, their experience should be the same. They should feel the same way, see the same branding, and be able to jump from one channel to another without issue.
How to create an omnichannel marketing campaign
Creating an omnichannel marketing campaign is more than just making sure you're using all the right channels. It's partly that, but it's mostly using all the right channels in all the right ways with the end goal of creating the best and most seamless shopping experience for your customers.
Keep reading to learn the best tips for creating an omnichannel marketing campaign.
Step 1: Know your customers
In order to best serve your customers, you have to know who they are, what they like and don't like, and how they shop. Creating buyer personas for your customers will be crucial to the success of your omnichannel marketing campaign.
Don't be afraid to get specific because the more specific you are, the better chance you have at success. Check out the graphic below for a plethora of sample questions to ask when creating a buyer persona.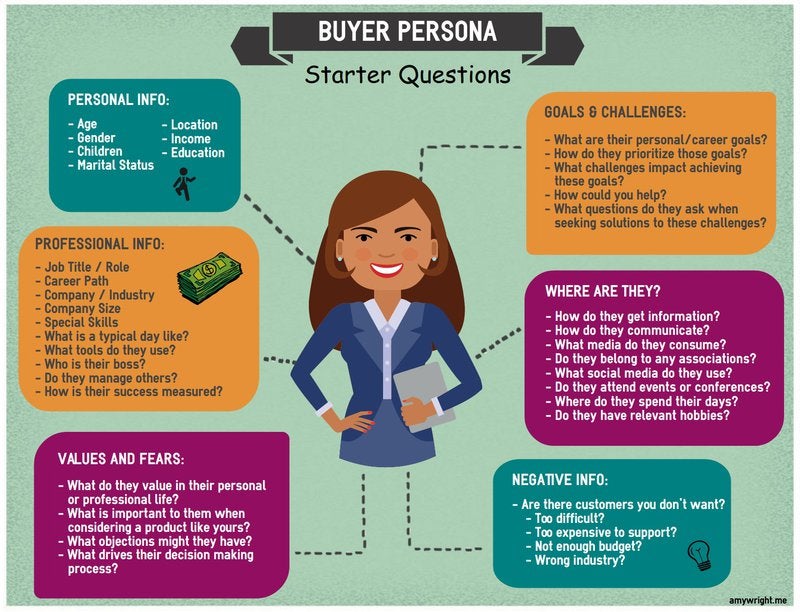 You'll use buyer personas to identify your target audience and figure out their needs, wants, and pain points in terms of shopping experience so you can work to fill in the gaps.
Step 2: Plan your design
Since your customers will be seeing the same design across multiple channels, it's important that the look of your app, website, and store are pleasing to the eye. (Brand recognition is detailed more below, and that's actually a separate step even though they seem very related.)
This one is all about different color palettes, font sizes and styles, backgrounds, and more. You could even put together a focus group to get honest feedback before rolling out your designs.
Step 3: Make customer contact personal
Now that you've worked out details about your customers, you can start specifically tailoring your messaging to them. With most email marketing tools, you can send out emails using the subscriber's name so they get a personal approach. But no matter how you personalize your messaging, make sure it's the same across a customer's account on your website and any related rewards or loyalty programs.
Step 4: Implement your designs
Your marketing attributes to brand creation and recognition, so take all of the feedback you've gotten so far and put it into practice. You'll be more familiar with your customers now, so you know the wording you should be using and how to address them.
Whether it's through email, social media, in-store, or on your website, the design should look the same, or at least have the same theme, and be clearly recognizable by new and existing customers.
Step 5: Use the right tools
One tool you'll want in your arsenal is CRM software to collect and organize current and prospective customer information to better help you understand your customers.
Another is an automated email marketing tool, such as Constant Contact. These provide popup windows on websites asking if you want to receive emails for exclusive deals, promotions, or general communications. They collect your name and contact information, which is then added to email marketing materials.
The last in the trifecta of tools you should have is a way to track your progress and success, or your return on investment (ROI). With automated marketing software, which can be simple calculations or actual software, you'll be able to see which efforts are really working for you and which aren't returning results.
3 omnichannel marketing best practices
It's important to make sure you're doing omnichannel marketing right because you don't want to waste time with too much trial and error. Follow the three tips below to get the most out of your omnichannel marketing strategy.
1. Be thoughtful about your marketing presentation
For omnichannel marketing to work, your customers need to feel the same no matter how they're accessing your business — and whether they get correspondence through direct marketing.
For example, if they add something to their cart on their laptop and then switch to their phone, will those items still be there, or will they have to start over? If they open your website and then go get email, will they be able to tell the email is from your business?
2. Think of yourself as the customer
The best way to make sure your customers are receiving the best experience is to think about what you would want as a customer. If you buy something in a store, you'd probably want to be able to also go to that store's website and see your purchase in your online account. Knowing what you would want will help you create an experience your customers will also want.
3. Be responsive
If you find that customers are unsubscribing from your marketing emails, unfollowing you on social media, or haven't bought from you in a while, send out a survey or make one optional on your website for when they decide to come back. Find out what went wrong and do your best to fix it so they continue to have the best customer experience through your omnichannel marketing efforts.
3 examples of omnichannel marketing that work
Below are a few real-world examples of companies that are getting omnichannel marketing right and making the shopping experience seamless for their customers.
1. Starbucks loyalty program
Whether you have the mobile app or a physical loyalty card, your points — or stars, as Starbucks refers to them — are tracked and stored the same. If you have the card and want to move to the app, you enter the card information into the app, and your points transfer over.
Now you can order and pay using the app, or do it in-store with the barcode. All of the company's marketing channels also look the same, with the signature Starbucks green prominently displayed.
2. Amazon website, app, and Alexa
With Amazon, you can shop online through the app on your phone or smartwatch and even through Alexa, the company's cloud-based voice service. Amazon has made it so that, no matter where you are, you can shop and receive the same experience.
3. Target app
Omnichannel marketing for retail is almost perfected with Target. When you buy something in a physical store, online, or through the app, those purchases will show up in your Target account. From there you can view your receipts, purchase history, and any points or rewards you've earned.
It's easy to go into a Target store, walk up to customer service with a product you want to return, have them scan the barcode on your app, and you're done. Even better, you can process returns right through the app without having to set foot inside the store.
Final thoughts
Omnichannel marketing is all about making sure your customers receive the same shopping experience whether they're shopping online, in your store, or through your app, if you have one. It's an approach that companies such as Starbucks, Amazon, Target, and even banks are using to streamline the customer experience.
The post A Small Business Guide to Omnichannel Marketing appeared first on The blueprint and is written by Jennifer Pos
Original source: The blueprint