A well-designed work schedule can do wonders for your company. It helps prevent employee burnout, improves the work environment, and boosts your team's productivity.
Despite its importance, companies struggle to put together an effective team schedule that employees find appealing. Data shows that 41% of employees prefer a different work schedule, highlighting high worker dissatisfaction and increased turnovers.
To improve your team management's employee scheduling initiatives, we'll dive into the nitty-gritty of team scheduling.
Overview: What is team scheduling?
Employee scheduling is the process of setting work schedules to meet the demands of your business operations. It includes specifying schedules to ensure a smooth transition from one shift to another so your business process isn't disrupted.
In most industries, employee workloads frequently change, meaning your managers will need to handle potential team scheduling conflicts and issues, such as:
• Overstaffing when work demand is low or understaffing when it is high
• Handling emergencies and when employees get sick and fail to report to work on time
• Last-minute hiring that ends up being too costly
Effective team scheduling helps you manage these issues better and ensure your business maintains high employee satisfaction and loyalty, complies with applicable labor laws, delivers quality customer service, and runs like clockwork.
What to consider while trying to schedule your team
Establish an effective team scheduling calendar by considering the following:
• Proper staffing: Ensure you schedule the appropriate number of staff for each position in a shift. Know the spikes and dips in your customers, business, and project schedules and mark off special events, so you're not over or understaffed.
• Error-free schedules: Plan your team schedules carefully to avoid these common mistakes: double-scheduling your staff, assigning an employee to the wrong position, and over or under scheduling workers.
• Applicable labor laws: Know the state and local laws that apply to your business and workers to avoid potential violations, ensuring you uphold employees' labor rights. This also includes federal and state regulations that cover overtime hours and pay.
10 team scheduling techniques and methods for successful planning
These tried and tested techniques will help you with effective team scheduling.
1. Use a reliable team scheduling software
Use team scheduling software with robust features, such as built-in scheduling templates and customizable and easy to set up scheduling rules, to help prevent over or understaffing, etc.
TSheets, for instance, offers essential time tracking tools to help create and manage your employee schedules seamlessly.
It has a time clock kiosk that allows your staff to clock in from their device, a detailed reporting of schedules and worked hours, and a scheduling tool to create shifts and employee assignments easily.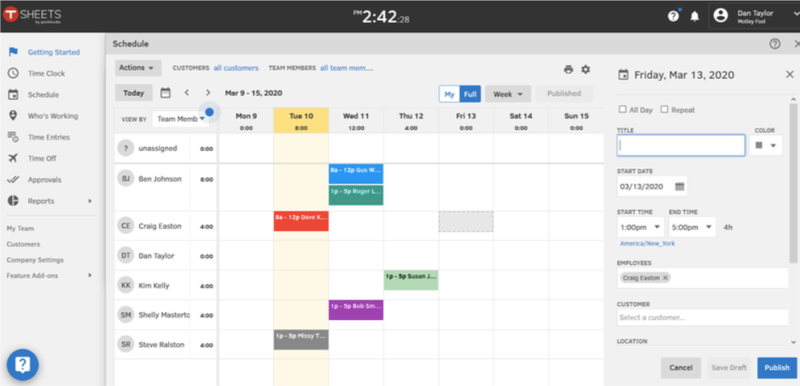 The software lets you set repeat tasks and schedules to streamline your timetable and send alerts to your employees when changes happen.
Find a tool that simplifies your employee and cross-functional team scheduling, alerts you to potential conflicts and errors, and helps you manage all your staff schedules in one place.
2. Know your people
Understanding your employees gives you the flexibility and freedom to mix and match strengths, weaknesses, personality types, skills, and more to create the best shift for any working day.
Put together a list you can refer to when creating team schedules to help you easily find the best employee to assign to a shift. This should include:
• Your employee's name
• Full-time or part-time status
• Relevant skills
• Overtime restrictions
• Certifications (when applicable)
• Other useful notes that tell you more about your employee's work attitude, such as meticulous, efficient, can handle large crowds, etc.
3. Create the schedules in advance
Reduce high employee turnovers caused by unpredictable schedules. Create your schedules in advance when possible. Allow room for last-minute schedule changes and share short notice events with your employees. This ensures everyone in your team stays in the loop and minimizes the potential negative impact on your staffing and schedule.
Use a team scheduling app that lets you create and modify standard schedules that your employees can access quickly and easily. Also, use appointment scheduling software to get a full picture of your client bookings and factor those into your employee scheduling to eliminate potential delays to your service delivery.
4. Set up an availability chart
Prepare a plan B for inevitable employee emergencies by creating an availability chart that contains a list of your employees and the dates and times they're available to work.
This helps you quickly identify which team member might be willing to fill in and pick up extra shifts so your business can still operate smoothly.
5. Make an absence management plan
Create a set of policies to manage employee time off, such as vacation leaves and unplanned absences when your team members get sick.
Implement an absence management plan to ensure your employees follow proper protocols, reducing the potential impact on your workflows and productivity.
Employee management software WorkForce, for instance, has features that streamline all aspects of your employee leaves, absences, and other accommodation policies.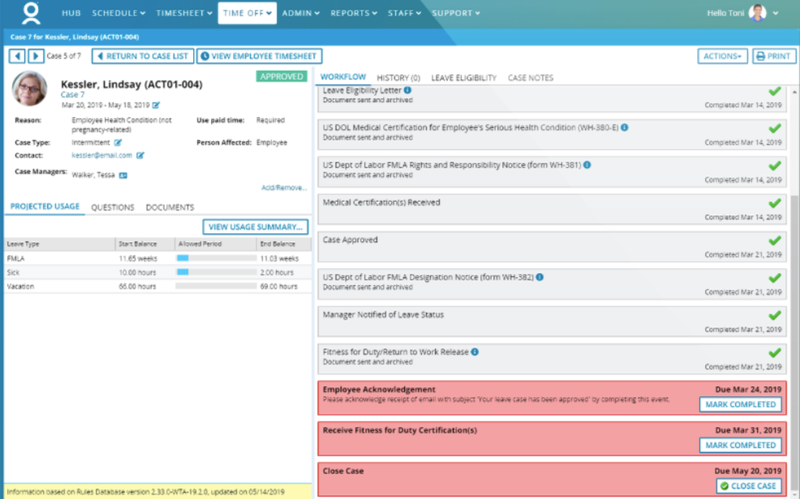 This software provides configurable and pre-built workflows that guide your HR managers and employees through every step of their leave process, from the initial request stage to the return-to-work authorization phase.
6. Establish proper team communication strategies
Set up team-wide communication strategies to find and access your work schedules efficiently.
Use a team appointment scheduling platform that allows every member to instantly see their assigned shifts, their potential work schedules, and their time-off request status.
Leverage team scheduling software with instant messaging and group chat features for quick and easy information dissemination and quick responses to streamline your communication flows.
7. Delegate some of the scheduling
Assign some of the scheduling tasks to your most reliable or senior staff to lighten the burden of creating schedules and to keep your employees engaged.
Using a work schedule maker, try assigning a few of your best employees for each shift, then let the rest of the staff access the schedule to fill in their preferred date and time slot.
Give team members one or two days to make changes to the schedule, and make sure they know you or your managers might still make a few and final modifications.
Once that's done, go over the schedule and make the necessary changes to ensure each shift is appropriately staffed, and then share your employees' final schedule.
8. Post the work schedule promptly
Get your team schedule out as soon as it's ready to give your employees time to adjust and address potential conflicts and changes they might have to the work schedule.
Consider finalizing and disseminating the employee schedule at least two weeks before the end of your current schedule to give your staff enough time to trade shifts, reschedule personal commitments, raise scheduling concerns with management, and find a substitute when needed.
9. Prepare a contingency plan
Besides your availability chart, prepare a backup plan for the unlikely chance that none of your staff can make it for their shift, or you need someone to fill in quickly when none of your employees can do it.
Create a list of your reliable part-time workers or outsourced seasonal staff to ensure your operations continue and stay on schedule.
10. Set clear scheduling rules
Minimize the complexity of team scheduling by setting specific policies, processes, and regulations.
Doing so provides clear guidelines for all your employees, avoids confusion, and helps you settle scheduling disputes more easily, especially in project human resource management, where you bring staff from various functional areas together to work in new relationships and roles.
Start building efficient team schedules
There's no shortcut to effective team scheduling, but using a reliable schedule maker tool and following tried and tested methods can do wonders.
Use the tips in this guide as your building blocks to develop an employee schedule that satisfies your employees and customers, optimizes your business productivity, and, ultimately, boosts your sales.
The post 10 Strategies for Effective Team Scheduling appeared first on The blueprint and is written by Jimmy Rodela
Original source: The blueprint