"Is water wet?" Will Gilson is blunt when asked whether it's particularly challenging to open three restaurants in the middle of a pandemic.
But the restaurateur is also optimistic because they are slated to open this fall in Cambridge Crossing, a 4.5 million-square-foot mixed-use development near Boston. He sees the complex's density and location as boons for his business, come what may.
Mixed-use projects have been a hallmark of the country's urban renaissance over the past couple of decades. They are often thriving complexes built with an ecosystem of residences, offices, plazas, hotels, shops and restaurants. Developers like them for the scope, and business owners like them for the round-the-clock density of people.
In some cases, these projects have transformed whole areas: The 28-acre Hudson Yards over an old train yard brought new life to an underused corner of Manhattan, and the 53-acre Water Street Tampa in Florida will connect the city's downtown with its waterfront. In general, they have helped define the live-work-play ethos that many younger professionals seek in cities.
But the coronavirus threatens to upend the allure of retail and restaurants in these developments. Safety concerns and a changing patchwork of state and local virus-related regulations have led developers to rethink the layouts and designs of such areas. Ideas coming to the fore could be around for years, or they could start to fade away at the first sign of a coronavirus vaccine.
Starting a mixed-use project can be challenging without all the pieces in place, and the uncertainty over how to proceed has tied developers' hands. They cannot pitch the office or residential space until they line up the retail and restaurants. And because some businesses are having difficulty paying rent in the pandemic, developers are being forced to look at other ways to collect payment, including a model that bases rent solely on sales, insulating the tenant more from downturns.
But developers agree that safety measures are necessary if projects are to retain the shops and restaurants on the lower levels that help draw people to the offices, hotels and residences up top.
The return to normal will not come simply by limiting crowd sizes, which will not be possible for shops and restaurants that are already surviving on a slim profit, said Les Hiscoe, chief executive of Shawmut Design and Construction, a Boston firm that works with retailers and restaurateurs.
To address that challenge, developers and designers are mulling interior and exterior changes that could drastically repurpose space, an overhaul that will require both customers and merchants to readjust their experiences and expectations. For example, a lot of space once used for sales or dining will now be taken over by behind-the-scenes work as vendors continue to shift to more takeout and pickup service.
"What we've seen in the past with our clients is they really want to maximize the front of the house," said Lauren Chipman, chief executive of Chipman Design Architecture in Des Plaines, Ill. "That is really going to have to change. I think what we're going to see is some of the front-of-house recaptured for operations."
Some restaurants in mixed-use developments might embrace the ghost kitchen concept and switch fully to takeout and delivery.
Less drastically, operating safely might focus on controlling the flow of the customers who do go inside. Architects and contractors say they have received requests from clients for graphics and other signage to guide people through stores and restaurants so they do not bunch up or run into one another.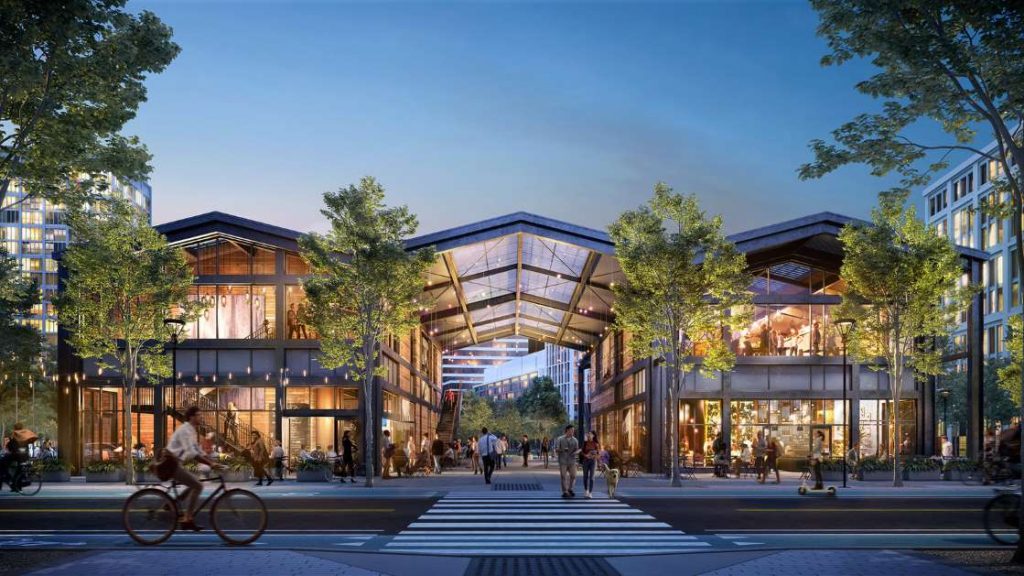 There is also growing demand for motion-enabled technology in a range of areas, including toilets and sinks in restrooms, doors, checkout counters, clothing racks and elevators.
Many mixed-use projects already have the infrastructure in place for such a shift away from touch, said Webber Hudson, an executive vice president at the Related Companies, the lead developer on Hudson Yards. Air filtration systems originally intended for heating, cooling and odor control can be used to fight pathogens.
Hand sanitizer will be omnipresent, merchandise will be spaced farther apart, and material that is deemed as possible short-term hosts for the coronavirus, such as marketing placards and bric-a-brac sometimes found at checkout, will be gone.
But Mr. Hiscoe warned that the demand for these technologies and materials could lead to a supply shortage. "It's going to come down to a competition of who is the cleanest and who gives the consumer the most confidence to shop there based on the best mitigation strategies," he said.
Then there are the changes that will be "invented on the fly," including ones related to modular construction, pop-up stores, ghost kitchens and different ways of recirculating air, said Duncan Paterson, a Los Angeles-based principal at the architecture firm Gensler.
Such safety features might have staying power, too.
The challenges facing retailers and restaurateurs brought to mind the sneeze guard, said Daniel L. Tessarolo, chief operating officer of Chipman Design Architecture. The plastic dividers that now ubiquitously cover buffets and salad bars grew out of a single chain in Ohio and Pennsylvania when the country's growing ranks of self-service restaurants were trying to protect food from customers' germs, according to Smithsonian Magazine.
Plans to reopen businesses could also prove a test of the endurance of the mixed-use model in the United States, which was later in embracing such complexes than cities in Europe and Asia, Mr. Paterson said. But with their complementary parts and urban locations, mixed-use projects may be strongly positioned.
Mr. Gilson said his restaurants in Cambridge Crossing could survive lost foot traffic from a reduced office population by relying on condo and apartment dwellers.
"Thankfully, with mixed use, you can be adaptable even if the work force is decreased," he said, adding that even if remote working remains popular, the office tenants are not going away entirely.
The stakes are high for business owners such as Mr. Gilson. The pandemic has spurred record job losses in retail and food service industries. Nearly 1.9 million Americans filed new claims for state unemployment benefits in the week that ended May 30, the Labor Department reported Thursday; the overall number collecting state benefits increased to a seasonally adjusted 21.5 million.
So it's not unusual for developers to promote the retailers and restaurateurs they have leased space to ahead of an opening, and even the ones they might land, because those tenants help attract residents and other businesses.
The plan for the redevelopment of the former Boston Globe headquarters, for instance, has promoted the possibility of a brewery and beer garden. The Plaza at Coral Gables, a housing-office-retail hybrid in the Miami area, includes a 30,000-square-foot entertainment hub with bowling lanes and bocce courts. And Fifth & Broadway, one of the largest recent developments in Nashville, is expected to feature an Apple store.
Developers and owners then need to find a way to retain such attractions as pandemic-related restrictions ease, said Phil Colicchio, an executive managing director at the brokerage firm Cushman & Wakefield who specializes in advising independent restaurants.
"Because the alternative is nothing," he said. "The alternative is a ghost town."
The post Pandemic Threatens to Upend a Thriving Real Estate Model appeared first on The New York Times and is written by Tom Acitelli
Original source: The New York Times