Your order fulfillment process can make or break your e-commerce business.
With a carefully developed and well-thought-out fulfillment process, your expenses are reduced, your products are delivered faster, and your buyers have an exceptional customer experience — all of which are essential to your e-commerce success.
This emphasizes the value of establishing an efficient order fulfillment process to ensure timely delivery. It improves consumer satisfaction and fosters brand loyalty, which helps support your customer retention efforts.
Learn the processes for effective e-commerce fulfillment operations in this comprehensive guide.
Overview: What is e-commerce fulfillment?
E-commerce fulfillment is the series of steps you take to complete customer orders. The process includes inventory and order management, warehouse organization, packing and shipping, customer communication, and more.
Whether you use third-party fulfillment services or handle orders in-house, ensure your operations meet customer demands. Doing so encourages your customers to buy from you repeatedly and spread the word about your exemplary customer service.
Increasing product demands may require you to get additional support. In that case, choose an e-commerce fulfillment service that can help accommodate your business' growing needs.
What to consider when looking for an e-commerce fulfillment solution
Consider these factors to find an e-commerce order fulfillment service that addresses your business needs.
1. Easy setup
Choose an e-commerce fulfillment solution that lets you set up and integrate with your e-commerce platform quickly. This lets you sync your online store with your fulfillment service, import orders, configure shipping options, send data, etc., seamlessly.
Streamline your onboarding process with an easy-to-use e-commerce fulfillment platform.
2. Inventory management features
Use e-commerce fulfillment services that give you real-time views of your inventory status and quantity across locations. This helps you assess the performance of sold items over time, determine slow-moving inventory, etc.
Use fulfillment solutions with inventory management tools that let you efficiently replenish your inventory, send inventory transfer requests quickly, and more.
3. Analytics and reporting
Gain useful insights with fulfillment services that analyze your storage cost per unit, shipping costs, and fulfillment centers to restock. These show you your e-commerce fulfillment process' performance, helping you make better decisions.
The e-commerce fulfillment process
Understand the order fulfillment steps to achieve efficiency and help streamline your e-commerce business operations.
1. Stock management
Know the quantity and quality of your stock before processing orders to avoid fulfillment issues. Update your inventory regularly, and mark products with stock keeping units (SKUs) to easily keep track of all your items.
Perform regular audits to manage your inventory and ensure you're implementing your process properly. This also helps you carry out quality control and assess outdated and damaged items, including products that need replacement.
Tips for managing your stock:
• Implement a standard stock receiving process. Be consistent in how you receive your items to avoid inventory and purchase order discrepancies. Verify your stocks once you receive them, and count and check for accurate recording.
• Optimize your inventory. Identify the number of items you need to maintain, including your minimum stock levels. This helps ensure you don't run out of inventory and can fulfill customer orders every time.
2. Order processing
Send confirmation notifications to customers once they place their orders, whether through your website, email, online marketplace, or elsewhere. Streamline the process by using e-commerce platforms with features that automatically trigger the alerts.
For instance, online store builders, such as Squarespace, allow you to set up order confirmation emails for your customers.
Include the important details in your confirmation emails, such as the tracking number, order summary, etc., so your customers have all the information they need about their purchase.
Tips for order processing:
• Integrate multiple e-commerce channels. Track all of your orders from various channels using software that synchronizes your e-commerce platforms and marketplaces. Doing so ensures you don't miss any customer orders, deliver products on time, and improve consumer satisfaction.
• Use the right software. Leverage apps that automatically create and download orders in the system in real time for efficiency. This allows you to instantly reserve inventory and prevents you from overselling items when you don't have enough in stock.
3. Picking
Once the orders are confirmed, send a picking list to the fulfillment warehouse to look for the required products for packing and shipping. The pick list should specify the shelf and aisle each item is in, as well as the quantity, color, size, etc., to ensure you deliver the right product.
Establish an order prioritization system as well to help expedite the picking process. For instance, prioritize picking items for next-day shipping and other premium services to ensure on-time delivery.
Tips for achieving an efficient picking process:
• Automate. Use automation tools to streamline your picking procedure and, in turn, your fulfillment process. Process automation, for example, digitizes your inventory data collection and integrates the information into your database. This allows you to quickly input and track the data into a centralized storage system for easy retrieval.
• Use e-commerce fulfillment services with the right technology. Choose providers using software that integrates with your e-commerce platform for a speedy and accurate picking process.
4. Packing
Increasing your brand awareness is more than just marketing your product online. It includes using your logo and brand colors in your packaging as well. Use packaging that represents your brand while keeping the items safe and intact.
Label your packages properly, include the correct delivery address and receiver details, and adhere to the courier company's packing standards. This helps avoid issues, such as damaged items and delivery delays. It also reduces product returns.
Tips for packing your customer orders:
• Use the right packaging. Choose sturdy packing materials that can withstand the transporting process. This ensures your packages won't have rips or dents in them by the time customers receive them. Plus, proper packaging protects the quality of the items. Provide excellent customer experience with your packaging. It will help boost your branding and reinforce your e-commerce strategies.
• Make them return-friendly. Returns are inevitable. Streamline the procedure by using packaging that allows customers to ship orders back easily.
Return-friendly packaging is convenient for your customers, it keeps your product safe on the way back, and it reduces your potential damage costs.
5. Shipping
Determining shipping costs can be challenging, especially if you're using more than one carrier. E-commerce platforms such as Ecwid, however, simplify this process.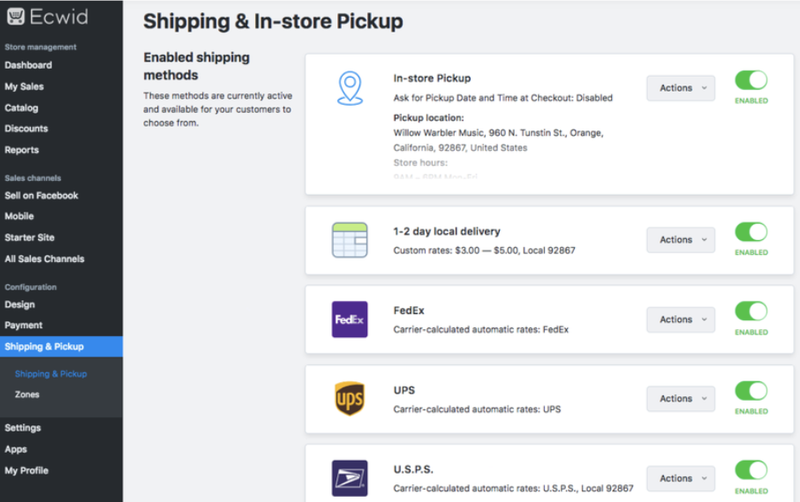 The platform syncs with local and national carriers, calculating the costs for you and giving you real-time shipping rates. This helps speed up your shipping process and e-commerce order fulfillment.
Tips for your shipping process:
• Digitize shipping tasks. Work with e-commerce fulfillment companies with apps to automatically update your accounting data and inventory levels. This ensures your inventory is up to date as soon as your products are removed from the warehouse and shipped. Fulfillment service shipping tools can also automatically create shipping labels and generate tracking details to post on multiple platforms, such as your website. It then triggers automated alerts to notify your customers that their items have been shipped, making the process seamless for you and your buyers.
• Choose fulfillment partners located close to your customers. Find fulfillment services with warehouses close to where the bulk of your consumers are. This allows for shorter shipping times and cheaper rates (depending on the items), making sure your customers receive their orders quickly and saving you money on shipping costs.
Start developing your e-commerce fulfillment process
Your business needs may be unique, but the steps we shared here can be your framework for developing your e-commerce fulfillment process. Follow the processes discussed in this guide, and you'll streamline your order fulfillment tasks and run them effectively in no time.
Once you've mastered your e-commerce fulfillment, calculate your year-over-year growth, and assess if your fulfillment process contributes to your challenges or successes.
The post A Small Business Guide to E-Commerce Fulfillment appeared first on the blueprint and is written by Jimmy Rodela
Original source: the blueprint