If you've just opened your doors, chances are you're not thinking about borrowing money just yet. But what happens if your business suddenly takes off and you need to expand operations sooner than expected? Will you be able to obtain a loan for your business, or will you have to fund operations using your own money?
That's one of the many reasons why having business credit is important for the success of your business. Read on to learn some pointers on how to get started building credit for your small business.
Overview: What is business credit?
Similar to your personal credit, business credit is established to provide financial institutions, vendors, and investors with a look at your business finances. As a small business owner, it's important to separate your personal credit from your business credit, so any negative impact to one will not adversely affect the other.
Why is having business credit important?
Whether your business is funded by your personal savings account or a venture capital firm, you'll still need to build your business credit. Establishing business credit gives your business a level of credibility with lenders and suppliers, and it helps you build your company. Having good business credit also affects everything from insurance premiums to interest rates.
There are a lot of reasons why establishing business credit for your small business is so important.
1. Better terms with vendors and suppliers
Buying from suppliers and vendors using cash can seriously impact your operating cash flow. Once you have business credit, you'll be able to purchase supplies and materials on credit with favorable terms.
2. Easier to obtain a loan
Having good business credit makes it much easier to qualify for a small business loan. Most financial institutions are hesitant to make loans to businesses that have poor credit or no credit. A good credit score will also help you obtain better terms and interest rates when you're approved for a loan.
3. Helps to protect your personal credit
When you began your business, you likely used your personal credit to help get it up and running. But once your business is operational, the best thing you can do is to start treating it as a separate entity.
That means using your business's tax ID number instead of your Social Security number for all business-related transactions. Doing so removes the risk of damaging your personal credit score should your business go under.
How you can build credit for your business
You can start building your business credit no matter what business structure you ultimately choose for your business, although incorporating or creating a partnership or limited liability company (LLC) carries more weight with creditors.
There are a variety of ways that you can start to build your business credit. The majority of tasks on this list are easy to complete and only take a few minutes. You should be prepared to provide additional information, such as financial statements, financial forecasts, or financial projections, to complete the application process.
If you're not sure how to establish business credit for your small business, check out these suggestions.
1. Get an employee identification number
Obtaining an employer identification number (EIN) will allow you to begin the process of building your credit. You will use your EIN when filing taxes; applying for loans, credit cards, and lines of credit; and when applying for credit from your vendors and suppliers. Having an EIN also means you'll no longer have to use your Social Security number in your business.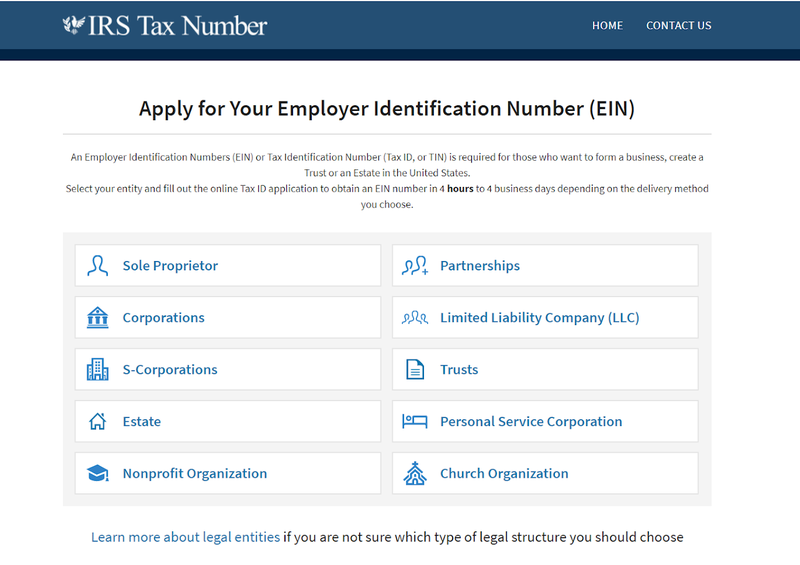 Applying for an EIN should be done right away when opening a business. For a quick turnaround, use the online EIN application process, which will validate and issue an EIN immediately. If you apply by fax, the turnaround time is four days, while applying by mail can take up to four weeks.
Once you have your EIN, you'll be ready to complete the rest of the steps necessary to build your business credit.
2. Have an established place of business
Having a physical business address and dedicated phone number is important for establishing business credit. Once you have both in place, you'll be in a position to register with various business directories. Even if your business operations take place from your dining room table, establishing a separate mailing address and phone number will help differentiate your business from your personal life.
3. Open a business bank account
Right after you receive your EIN, you should open a business bank account. Keeping your business funds separate from your personal funds is a strong indicator that your business is a separate entity. Once the account has been opened, it should be used for all financial transactions of your business.
4. Obtain a D-U-N-S number from Dun & Bradstreet
Obtaining a D-U-N-S Number can help expedite the process of separating your business credit from your personal credit. Used to verify the existence of a business, a D-U-N-S Number is a nine-digit identifier for your business and is used to track business finances.
Obtaining a D-U-N-S Number is free and can be requested directly from Dun & Bradstreet. When registering for a D-U-N-S Number, you'll need to provide the following information:
• Name of your business
• Mailing address
• Date the company was formed
• Type of business
• Name(s) of owners
• Industry classification
• Financial information
Once you register, you can expect to receive your D-U-N-S Number by mail in around 30 days. Although it's not necessary for conducting business with private firms, a D-U-N-S Number is required if you expect to do business with the federal government.
5. Apply for a business credit card
Applying for and using a business credit card will go a long way toward helping you establish business credit. Using the card for regular business expenses and paying the bill in full monthly will help create positive credit. You can also apply for a business line of credit from your bank, but a business credit card will be more helpful when you're still trying to build credit.
6. Pay all bills on time and in full
With your bank account and your vendor bills all tied to your EIN, any payment activity will directly impact your business credit score. If possible, pay all of your credit card bills in full, and be sure to pay all of your vendors and suppliers on or before the payment due date.
Establishing credit terms with vendors and suppliers can also be useful, as can creating an LLC or S corporation, though you can establish separate business credit no matter what type of business you own.
Start building your business credit today
Working to establish new business credit and maintaining that credit is part of being a business owner. Good (or bad) business credit can impact your business the same way that personal credit can impact your ability to finance a car or buy a house.
Remember when you received your first credit card or financed your first car? You may have had a high interest rate on that car, but when you purchased your second car, chances are the interest rate was much better.
Business credit building works the same way. By applying for a business credit card or line of credit, negotiating credit terms with your suppliers, and paying your bills in full and on time, you're working toward building good credit for your business. That puts you in line for easier loan approvals, lower interest rates, and better payment terms.
Can you afford not to have good business credit?
The post 6 Easy Ways to Build Your Business Credit and Your Business appeared first on The blueprint and is written by Mary Girsch-Bock
Original source: The blueprint